Ultrasonic welding is a technology used in the plastics industry to join two plastic parts using high-frequency ultrasonic vibrations. This welding method offers several advantages over other joining methods, including speed, consistency, and low cost. Here are some of the ways ultrasonic welding is used in the plastics industry:

1. Joining plastic parts: Ultrasonic welding can be used to join plastic parts together, creating a strong and durable bond. The process involves applying high-frequency ultrasonic vibrations to the parts being welded, generating heat and melting the plastic. As the plastic cools, it forms a strong bond between the two parts.

2. Sealing plastic parts: Ultrasonic welding can also be used to create a hermetic seal between plastic parts, preventing the ingress of liquids or gases. This is particularly useful in applications where the plastic parts are exposed to harsh environments or require a high degree of cleanliness.

3. Embedding of metal parts: Ultrasonic welding can be used to embed metal parts into plastic parts, such as metal wires or inserts. The process involves creating a cavity in the plastic part, inserting the metal part, and then using ultrasound to melt and bond the plastic around the metal part.

4. Cutting plastic parts: Ultrasonic technology can be used to cut plastic parts with high precision and minimal damage to the surrounding material. This is useful for creating customized shapes or cutting parts from larger sheets or blocks of plastic.

Overall, ultrasonic welding technology has become an essential tool for the plastics industry, helping manufacturers create complex and durable plastic parts with high precision and speed. The technology is also environmentally friendly as it produces minimal waste and emissions compared to traditional welding methods.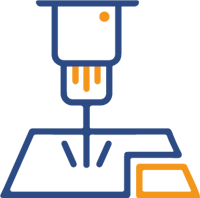 Types of ultrasonic welding at Plastima
Plastima works exclusively with Herrmann Ultraschall, the machine and system supplier for industrial ultrasonic technologies. Trusting cooperation based on values forms the basis for us to focus very much on the needs of our customers. Herrmann has grown enormously and the growth of the company and the professional interests of each individual do not always go hand in hand. This is a great challenge. Values define our playing field and are an important part of the Culture Journey. Fixed points that help us work intensively on the working atmosphere, cooperation, teamwork, and dealing with customers. Integrity, respect, passion, and resilience are the four cornerstones of our playing field. They are our "rules of the game" and should not only be exemplified but also lived together.

Ultrasonic welding machines have been used to join thermoplastics for more than 70 years. Ultrasonic welding technology is used when parts are too complex to be produced in one piece. This fast and efficient technique provides a strong, clean, and hermetic seal, increasing production without sacrificing quality. It is used for packaging, automotive and medical devices, and other specialized markets that require a high-quality label.

Powerful bench tops and fully automated solutions ensure a reliable solution without the use of additional consumables. This advanced technology helps make your production more sustainable combined with an increase in production quality.
Punchwelding & sealing machines
The ultrasonic punching and sealing system MPW (Modular Punch Welding) can punch and seal membranes in one production step. Solutions are available in bench top versions and automation integrations.

This modular MPW welding system with an operating frequency of 35 kHz can simultaneously punch and seal membranes in one production step. This eliminates the use of expensive pre-cut membranes. This production unit is particularly suitable for processing membranes, which are welded into plastic components as pressure balance elements (PBE). The MPW combines four automated single functions: punching the membrane from the tape, fixing by vacuum and feed, sealing with ultrasonic motion, and further feed of the membrane material.


Herrmann Ultraschall downloads
Herrmann Ultraschall HUG/WPW Series
Bench top machines
Herrmann's HiQ machines are universally equipped "bench top" machines and can be equipped in various strengths. Herrmann supplies 20kHz, 30kHz, and 35kHz machines with generator output from 900W to 6200W. Welding forces adjustable between 10- to 2490N.

Standard systems are available in four configurations: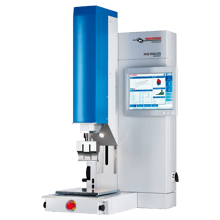 HiQ Dialog SpeedControl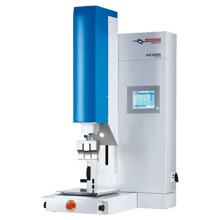 HiQ Vario PropControl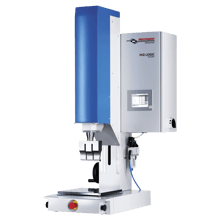 HiQ Logic PropControl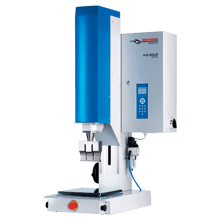 HiQ Solid PropControl
Herrmann Ultraschall downloads
Herrmann Ultraschall HiQ Series
Handwelding machines
The easiest way to ultrasonic weld thermoplastic materials is with a portable ultrasonic welding machine. The welders are ideally suited for use in prototype construction, single-piece machining, small series, and repairs. Whether it is spot welding, bending, expansion, or cutting - the hand-held welding machine HSG is easy to operate, has variable powers and can be equipped with all common sonotrode types (35 kHz).

The ergonomic product design and low weight of the portable ultrasonic welder guarantee effortless operation. Without major modification or rewiring, it can be quickly and easily supplemented with a built-in multi-finger switch. The portable ultrasonic welding machine and sonotrode are safely stored in the HSG MobileCase. This provides optimal storage for both the generator and the connector cable
Variations in handling are minimized thanks to the ultrasonic generator DYNAMIC digital control 1000 M with built-in time/energy / current cut-off. The freely programmable shutdown includes intelligent technology for better quality and repeatable welding results.


Herrmann Ultraschall downloads
Herrmann Ultraschall HUG/WPW Series
Automation machines
Herrmann's HiQ machines are universally equipped "bench top" machines and can be equipped with various strengths. Herrmann supplies 20kHz, 30kHz, and 35kHz machines with generator output from 900W to 6200W. Welding forces adjustable between 10- to 2490N.

Standard systems are available in four configurations: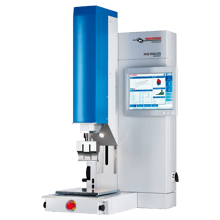 HiQ Dialog SpeedControl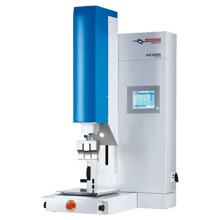 HiQ Vario PropControl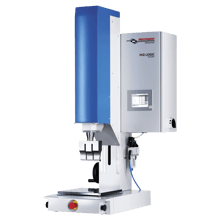 HiQ Logic PropControl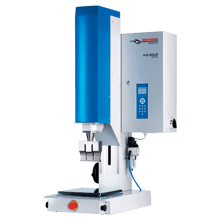 HiQ Solid PropControl
Herrmann Ultraschall downloads
Herrmann Ultraschall HiQ Series

Contact-information
Contact us